By: Russell Tobe, M.D.
Email: russell.tobe@gmail.com
Dear West Hudson Psychiatric Society (WHPS) membership, colleagues, and friends:
There are numerous events on the horizon. Firstly, our fall educational forum will take place November 1st at La Terrazza. Dr. Bennett Leventhal is Deputy Director at the Nathan Kline Institute and a world-renowned expert in Autism Spectrum Disorders. His broad title of "Autism Spectrum Disorders: What is New and What is Not" should not deceive us. It speaks to his varied expertise in this field, not only as a clinician but as a tenacious researcher. He has been involved in studies of epidemiology, natural history, evaluation, genetics, biologic treatment, and psychotherapy treatment of Autism Spectrum Disorders. He is also a charismatic and superb speaker. I am confident it will be a wonderful opportunity for the membership.
Secondly, the Mental Health Coalition Breaking the Silence Symposium will be this Wednesday 10/16.  Historically it is a widely attended event with a broad audience of consumers, providers, students, families, and advocates. Because of this, it is a forum for education but also remaining connected to our community, both professionally and more broadly. The topic this year is Major Depressive Disorder with the physician speaker (Dr. James Murrough), an expert in treatment resistant depression including use of ketamine. Visit www.namirockland.org for more information.
Finally, keep posted for further DSM meetings; the next being scheduled for February 7th. We continue to be open to ideas for areas of DSM discussion. Please contact westhudsonpsych@gmail.com with suggestions and requests.
Next, I want to again congratulate and thank our team of representatives who spent yesterday in the overcast and chilled weather reaching out to our community at the Nyack Street Fair offering depression screening. Though I have not yet had the opportunity for updates from Dr. Mavromatis and others who were involved, I am sure the effort continued to produce ongoing psychoeducation and linkage to care in our community as it has done for so many years to date. Thank you again to all who volunteered.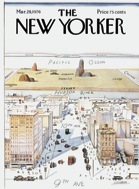 Finally, I wanted to highlight a recent trip to Orange Regional Medical Center (ORMC), which is objectively by any measure a beautiful medical center. One challenge for WHPS is our broad geographic area (four counties) with the vast majority of members located in Rockland (the smallest county in New York). It reminds me of the famous View of the World from 9th Avenue cover in the New Yorker. However, as with the cover, it is irrational and illogical. It was simply wonderful to meet with a growing and robust department of psychiatry at ORMC. Most ORMC department members are also WHPS members including several early-career psychiatrists. The meeting was useful in exploring both ways in which WHPS can better service our entire regional area and members farther away can continue to have representation in our district branch. We are most grateful to Dr. Carlos Rueda for facilitating the gathering and his ongoing collaboration.
So we will leave this column short and sweet. Please remember to stay involved and reach out with suggestions and requests. I am looking forward to seeing you all at the educational forum.  Please make sure to register as soon as possible.